Preface: Extensive update to the core of Google's algorithm
Many SEO experts are confused after an announcement by Google in January 2020(google January 2020 core update). They don't know what else has changed besides changing the site rank.
Google January 2020 core update. This Google search algorithm update was announced on Monday and began rolling out Monday at 12pm . The rollout is global and impacting all Google search regions and languages. This update is just about done rolling out but you may see fluctuations throughout the next two weeks, Google said. Jan 16, 2020
Google's announcement about this is like this:
Danny Sullivan from Google has confirmed that this January 2020 Core Update is global and pretty much all core updates are global – as we knew already. But it is good to have another confirmation that this past update is a global release.
Of course, it was obvious that most SEO experts were not satisfied with this explanation. One of them, for example, was this way:
"Again, we miss the days when it was said what had changed. A lot is going on on a website and such dumb notifications make it difficult to detect bugs and also take a lot of time."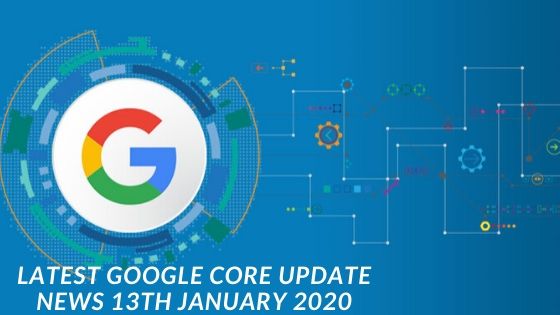 What exactly is a kernel update?
It is best to make this clear to you first. Google makes hundreds of changes to its algorithm every day, and at least one is big. Many algorithms we know by name ( like penguin, panda, pigeon, Fred, Etc. ) Used to specify the type of change implemented in Google's algorithm.
In the case of the Penguin algorithm, the issue covered was spamming in the link. Also, the pigeon algorithm with local SEO was connected. They all had a specific purpose.
In these cases, Google often provided us with an explanation, and we could review our site using the information we received and reconsider the subject matter.
But the kernel update is something else. As far as we have noticed, an update to the kernel involves a change in the original algorithm itself. I mean the algorithm that has between 200 and 500 factors.
What seems to be that in this type of update, Google is changing the importance, order or weight of these factors. For this reason, they are not able to explain exactly how to reduce or increase the impact of one of the parameters.
Imagine Google changing its effect from 42 parameters to 200 hypothetical parameters. Sure the rankings will change, but the factor of the rank change cannot be attributed to a parameter. The total changes in these 42 parameters have changed the ranking of the sites.
Sure it's not as simple as that, but such a drawing could be a good way to imagine updating the Google Algorithm kernel.
Here's a more complex hypothetical example, an example that Google will never give us.:
"In this update the impact of the keywords on H1, 2% Has increased, the impact HTTPS 18% Increased and the value of keywords in the page title decreased by 9%"
For many people who work in SEO, such statements are not understandable. Initially, it can be said that Google has changed the importance of effective factors on a page. For example, it has reduced the PageRank value or changed the percentage of importance of other factors. Such issues are never disclosed by Google.
This is the simplest explanation for such updates. More complexly, Google has experimented with its machine learning model and found that the new results yielded better feedback than the previous ones. Engineers can't figure out what the impact of these values ​​has become, more or less, because of the kind of machine learning that is.
We know that Google uses search engine evaluation systems. The result of these evaluations is to determine which algorithm takes precedence over the other. Note that this system does not prioritize sites.
How to repair a site affected by kernel updates?
Unlike updates that have specific names and affect a certain part, an update to the kernel is probably a collection of things that have changed.
Websites are in competition with each other for the search terms and the reason your site ranks lower in a keyword cannot be the reason that third party leads it.
To put it simply, Google is not able to provide a specific order for ranked websites because it differs from site to site. The reason your site was downgraded is that other sites have tried to work on other factors better than you.
Have all your competitors keyword in the tag H1 Have they put? If you haven't done so and your site's rank has dropped, then this is probably one of the strong ranking factors and you should try to do so as well.
Updates to Google's algorithm core(google January 2020 core update) do not penalize a site, but other websites have been rewarded for having another parameter.
Imagine your website has a lot of text anchor in its content, while other websites are better at the content structure. If Google reduces the impact of text anchors and gives more value to the content structure, then your website will rank lower.
These changes are more than one or two, and the combination of these changes reduces or increases the site's rank  You will. Finding the strengths of competitors' websites is not an easy task, and that is the issue that engages professional professionals.
Our important advice when overcoming kernel updates is to pay attention to the following:
User intent of the search
Quality of content
Site Structure
Google commands
In the end, if you even get a Google rank, don't give up trying, because a website in second place will never give up. Maybe you were looking for a specific solution, but the reality is. No one has ever said that SEO is easy
Conclusion: OUR TIPS ON GOOGLE CORE UPDATES
First of all, the best advice I can offer to publishers on how to manage major Google updates is …
Don't change your site! As much as you might feel the need to change something you deem crucial, no. When Google gives you the benefit of the doubt and announces an update to their algorithms, keep your site as-is and weather the storm while the update takes place.
In this way, if you experience an organic loss (or growth) of traffic, you will be able to attribute the cause to the update. On the other hand, if you change the theme, the layout, the revenue models of your site, etc., during or before the main update from Google and you lose traffic afterward, you will not know the real root cause of this. change.
As the main Google update in January (google January 2020 core update) rolls out, we won't know its impact on publishers until the time is up. Currently, Twitter and forums like WebmasterWorld and BlackHat World are exploding with "evidence" that this basic update is important. If it becomes clear in the coming weeks that there is a significant impact (some updates have negligible effects) on publishers, we will provide you with data showing you what has changed and the types of publishers affected.
In the meantime, keep creating great content in the New Year. Did you experience organic traffic losses (or increases) yesterday? Let me know in the comments.