Preface
Here's how to get to the top of Google/Google First Rank. First, we'll explain why Google's ranking is important and let you know the rules of the business. We will also describe the features that a site and its pages must have to reach this niche.
Replacing something that is very valuable and cleverly created with something similar to a newcomer and virtually a poor copy of existing items is a difficult task. Google's sites rank well on a meritocratic basis and if you have this feature, Google will give you a lot of points.
There are usually fewer risks in the long-term strategies and vice versa there are more risks in the short-term strategies of getting to the top of Google. If you own a reputable business and your income is dependent on your website, it is probably best not to resort to low-value techniques to rank Google.
Ranking on Google has rules
According to Google, building valuable content and responding to users' needs impacts your site's ranking more than any other factor.
The rules mentioned in the Google Guide explicitly state that any action to deceive Google and manipulate site rankings will result in a penalty and in the worst-case scenario, it will remove the entire site from Google's index.
Google does not approve of many of the old SEO tactics and penalizes breachers if they visit. This search engine draws users' attention to their guide and adds that any abuse will remove the site from Google results.
Google's Terms and Conditions include many domains and you can visit their pages to see them.
Many websites have been found to increase their rankings by relying on spam techniques and techniques  And after they reached the rank of Google, they suddenly experienced a sharp fall shortly afterward. The time to start this fall may take several days to several months. Sometimes it has been observed that such sites have been completely removed from search results.
If you are in the top spot of Google's results in the competitive arena, rest assured that Google will take a closer look at your website. This means that there will be more detailed algorithmic analysis as well as manual reviews on your site. Google has a lot of people in the field who manually check websites.
Using backlinking strategies or producing low-quality content is not something you can rely on in the long run. It is best to focus your energy and focus on keywords that do not rank well and, besides, increase domain credibility.
How do we find out that our website is in compliance with Google standards?
You can use tools like SEMRush, SiteBulb Crawler, DeepCrawl, Screaming Frog And SEO Powersuite Website AuditorUse and make sure there are no technical errors on your site.
If you are unfamiliar with technical issues, you can also leave your website checking to the Avenger IT Next Generation team.
How to check site rankings in search engines?
Doing it manually and day-to-day for a large number of words is a daunting task, and it actually presents you with many difficulties. Instead, you can use tools like SEMrush, Pro Rank Checker, Rank Tracker, And Advanced Web Ranking use.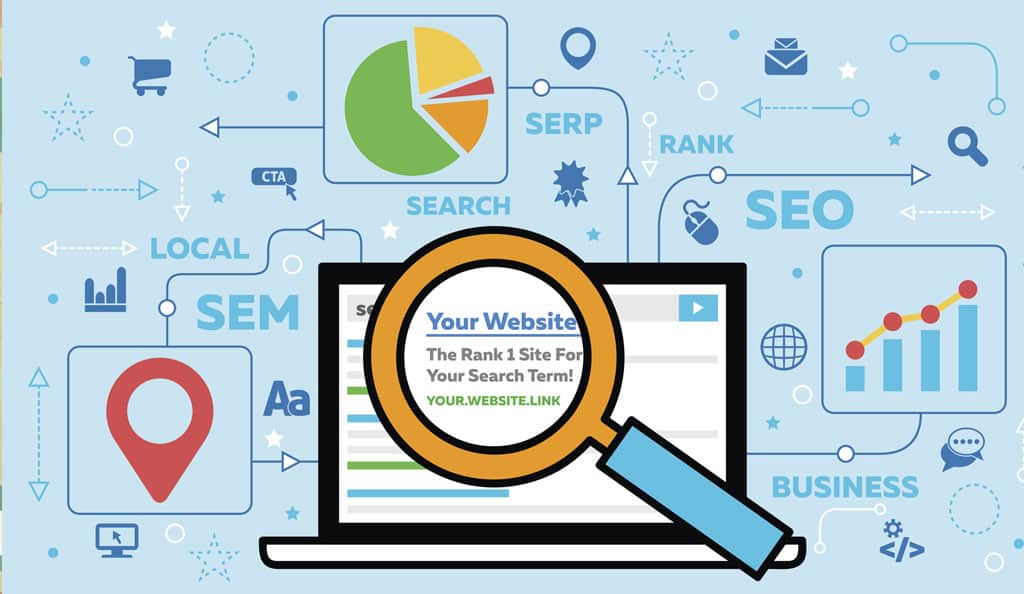 The mentioned tools have a low monthly cost and do the site ranking automatically. These tools are more efficient than desktop-based software. The most important challenge for desktop software is to check the site rank of their identity change and have the same performance as a user. Because search engines like Google are sensitive to the activity of robots on their platform.
Among the popular software on the desktop for checking the rank can be Rank Tracker Pointed out. To use this software you need to use another software to modify the system IP, as it is mentioned that search engines block suspicious activity from an IP, and face reCAPTCHA.
How to check Google rankings in other countries?
Again SEMrush It works very strongly in this regard. This platform has powerful tools for checking the website and ranking it. Using it you can find out what your site ranks in different parts of the world.
Generally, there are great online and desktop tools for checking site rankings. It's worth noting that Google is not interested in such apps.
What are the more important qualities of a web page?
The following are some of the most important features that Google uses to evaluate web pages.:
Functional Page Design
Reliability of the site
Correct information
Do not disturb ads
Enough contact information
Pay attention to details
If Google recognizes your efforts and investment in the site, it will probably be rewarded for you, and as your competitors fall short, you will face an increase in rankings.
But if the content of the site pages has a lot of spelling mistakes and not quality, they will certainly have a lot of negative user experience for the site and Google will not rank well with identifying these features.
What negative signals does Google seek for sites?
These include the following items but are not limited to them.
There are many spam comments
Poor content that lacks quality
Ignoring users' needs
Poor page design
Suspicious activity
Low credit
Automatically generate content
No contact information
false information
No site updates
Generate pages for the sole purpose of linking to other sites
Non-target pages
Excessive use of keywords
No user support page
Using techniques contrary to Google's policy
Why is Google First Rank is important?
Traffic obtained from search results It is and always will be the most valuable type of traffic. The most valuable and reliable sources of information can be obtained using search engines.
Google's ranking in search results has the following features:
Receives the most views and clicks from users.
Its clicks are higher than the second rank.
The number of clicks far exceeds the other eight items on the first page.
The important point here is that your site that is ranked first has a lot more to do with the search term than other competitor pages in the search term. This is very important because if your site does not have enough upgrades, your site rank will drop..
These days, many people are asking how to get to the top of Google, and in particular to Google.
The fact is that Google often changes the position of sites on the Google homepage. In general, there are two ways to get Google first:
normal: Includes a list of pages, list of places, news, video, map, location, blog, image, social network posts
By money
Google's rating is very valuable in its natural results because you won't get paid for clicking it. Websites that rank at the top of Google in several search terms often receive a lot of free traffic.
In highly competitive areas you might be tempted to use Google AdWords to get a Google rank, but once your account is recharged, your site visibility will also be zero..
What are the keyword types for ranking?
Depending on the type of competition and your field of business, there are different terms to rank. The difficulty of ranking in these words depends on the amount of competition and the length of your keyword.
Branding Ranking( Easy ): Choosing a standalone brand name will help you a lot. Only a few small optimizations and a few internal links and backlinks to your brand name can rank Google first for the site in search of your brand name. It only becomes more difficult if you don't have much credibility and a brand with the same name in the same area of ​​your business.
Get a rating for the name of your service in your area( usually easy ): This is usually easy and you can get closer to that goal by mentioning your area name and service name on the page. Better site optimization also results in higher rankings.
Ranking for your service name in the country( usually achievable ): This is a little bit harder to achieve, but it can also be achieved through backlinks from similar sites, even of ordinary quality. It is also essential to produce very high-quality content for your landing pages.
Ranking for Service Name( Hard ): This is a difficult task to achieve and you need to be careful about producing backlinks to your competitor's backlinks. In other words, where they have links, also place your links with the appropriate text anchor. You may have to include links to irrelevant but reputable sites because of the competition in these areas.
Product Name Ranking( Very Hard ): Since your site's products are likely to be sold in another 1,000 sites, so you need to generate very strong content for them and provide a great user experience. You also need backlinks from highly reputable sites.
Google First Rank With SEO
SEO It is a process that helps search engines understand that our site content is valuable enough to rank well in the search results page.
No one clearly knows how to rank Google. In fact, there are no preset versions to get to this place, but getting to that place will be very credible to you. Getting such a position requires a lot of skills, and that's where companies like Avenger IT Next Generation come in..
Your site's reputation will increase with the increase in quality and relevant content for your business. It's really interesting to know that these are the kind of content pages that get the best rankings.
Whereas other digital marketing methods  Also, more users will be familiar with your brand and will click on your site in the search result. So instead of focusing on a Google rank, you should spend more and more on search results ( for different keywords).
The difficulty of getting a Google Rank 1 depends on the amount of competition your keyword has and your credibility. In principle, fledgling websites can hardly get good rankings in search results for the most competitive keywords. If you get a Google rank in a phrase but you don't get traffic, it will be because the search term is not high.
Getting a Google rank is not an easy task, but only with constant effort and advice from an SEO expert, It will be possible. Watch out for SEO companies that guarantee an SEO rating. No person or set in the world can guarantee this, because they do not have the necessary resources.
How much traffic will we get if you get the Google first rank?
We get asked a lot about how much traffic we get if we get a Google first rank. Our answer to this question is that your traffic will surely be higher than the second-ranked website. Note that the data in most keyword search tools is also incorrect.
You won't be able to find out about it without being in the position of Google. Of course, Google AdWords can help, but it also has its costs.
You may even see your website rank in the keyword after a while and get great traffic from it. If this word is not listed in any keyword suggestion tool. So it's best to become an expert in search keywords and links, but don't rely too much on their data.
Ranked # 1 on Google, Bing, and Yahoo
Here we need to tell you the most important secret of SEO. The most important reason for ranking one for a site is that it is good enough. simply!
The advantage of these websites over others is usually summarized in the following items:
Full compliance with internal SEO
Creating a quality network of internal links
The simplicity of working with the site
Easy transfer from one point to another
And many other items
Once you have done this, you will have to generate valuable content around the different keywords. To do this, it is best to look at content that is already well-ranked to get an idea of ​​the quality content in any area. Try to make your content look like other content, but have a higher quality. You'll probably see your site's content go to the first page of Google it has arrived.
conclusion
Keep in mind that Google has no religion at all, and simply ranking one for many years can not be a reason for your site to be permanent. In fact, nowadays with the frequent and frequent changes of Google's algorithms, we see that the ranking of sites on the Google homepage is constantly changing and so there is no such thing as a guaranteed Google ranking.
Instead of doing things like buying backlinks, extensive backlinks, buying different domains and redirecting them to your site and the like, it is better to generate content and improve your website. It may take time to get a rank in this way, but you will eventually reach your goal.
Certainly, there are websites in every domain that have achieved good rankings by using backlink shopping and Google fraud and may stay there for a long time. But finally their simulation system has been identified by Google and their site rankings will drop sharply.
This is what we do in SEO consulting  To our customers. We help websites get better rankings on Google and make their websites look better. It's a long-term strategy, it takes a lot of time, but keep in mind that it's the only reliable way to succeed.
Nobody doesn't know exactly how Google works? No questions asked  Not equipped with such knowledge. َAvenger Next IT Generation is successful because he knows what kind of sites Google likes and so we help our customers get closer to that goal.
Sometimes, instead of focusing on what to do, it is better to be careful about what not to do. Also if you want your own SEO site  To get hold of it is best to learn SEO first think.
If you want to give us your site's SEO, you need to understand it first. For example, if you own a one-page site, we can't help you much. Because single page websites are not at all a good idea for a website. In such circumstances, it is better to turn to other digital marketing methods such as AdWords.
It requires a lot of consistent hard work to rank on Google these days but the rewards make it all worthwhile. Here is a list of some digital marketing tools to make the process a bit easier for you!
And here are some more SEO tips to help you optimize your site further!
If you would like us to do the hard work for you, click here to book a free consultation call with us.