Preface
Here's an open secret for anyone starting a website: Google loves SEO. It makes their job easier. They provide free Starter Guides To SEO. They provide a very deep and detailed guide to website best practices. And best of all – they provide Google SEO tools that you can wield to improve your website. If you are starting and looking for just beginner Google SEO tools – Read this post.
Google Search engine optimization tools (google SEO tools) are more important today than ever before. If you're looking to get started with SEO or want to achieve better results with minimal financial investment, here are some of the best Google SEO tools to use. In this post, we are going to showcase the most effective Google SEO tools for your websites. So we especially explain the Lighthouse tool.
What are Google SEO tools:
Getting started with SEO has never been easier than it is today. There are numerous google SEO tools such as the ones below that are available to SEO newbies and digital marketers on a tight budget. These tools offer a lot of great features and when used properly, can produce remarkable results. So find a tool that works for you and make the best of it.
Specification of SEO tools:
the good and SEO tools that help with the following categories:
but you must determine SEO tools are :
at the end Show the only apply tools:
all of the above specifications are appropriate to choose good tools to make your structure of your website's SEO
but you must utilize other additive tools to check your SEO's conditions and analyze your site ranking and traffic also the speed of your site and your coding and … so you need to determine some SEO analyze tools. I need to say the specification of SEO analyze tools, more and less are similar above parameter.
Which parameters are effective in SEO analysis of your website  :
Check your visibility on Google
Analyze your URLs and meta descriptions
Analyze your titles and headings
Check your website rankings
Analyze your incoming links
Check your spam score
Check for broken links
Audit your images
Check your internal links
Analyze your content
Page speed analysis
one of the most important parameters is Page speed analysis and on the following, we try to offer more detail about that.
How to Determine good SEO analysis Strategy
One of the most important activities for any SEO analysis is the SEO analysis strategy. This process should correctly identify your SEO analysis targets and provide fundamental input to establish your overall strategy.
Depending on the type, SEO analysis object, and scope of the SEO process, this analysis can become quite complex, as there are many factors to take into consideration—more now than ever before. So it is better before starting your analysis to clarify your analysis steps.
 Clear your goals SEO Analysis.
on the first step determine the Goal of your analysis, for example, you must check speed up your site and related parameters or control you inserted javascript code. with this action, you are able to determine your targe object
Select details parameters of SEO Analysis that you want analysis
in second steps must be clear your details parameters that you want analysis. it is very important to know which parameters are important in SEO, therefore,  you must enough knowledge and also information about SEO technical parameters. I suggest that you read our previous articles and videos in our blog and YouTube first.
Chose your Google SEO analysis tools that you need.
with the above information, we are able to select and chose our SEO analysis tools. it is necessary to say that all of the Google tools are free but if you want to use other SEO analysis tools, the choice is yours but never forget using the Google tools need a good overview about technical information, therefore, using commercial tools have prepared a formatted report that more understandable.
Make and Manipulation of total analysis :
At this step, we ought to make integrity over data and pieces of information of each analysis that it has been mined before. this step is the key step, so your final report must be very practical and functional.
for example,  the total analysis report must consist of the minimum following headline:
To identify competitors: SimilarWeb Websites Ranking & Sites Profile.
To identify keywords: to gather Google suggestions for your keywords.
To identify rankings: Authority labs, Positionly, Advanced Web Ranking, among others.
To identify popularity: The SERP overlay view, OpenSiteExplorer, CognitiveSEO Backlink Explorer and SEO for link related data and easy to develop popularity analysis.
To identify page optimization: On-Page Grader, SEO chat's Page Comparison and Web page SEO analysis tool for a quick on-page content optimization analysis.
To semi-automatize the process: There are tools that have already automatized some of the phases in the process that can help you to advance faster:  Keyword Difficulty and SERPs
Feedback step:
All of the elaborated strategies will be complete with iteration cycles and feedback. So SEO analysis is Perpetual activity and must be iterate on regular periods from first up to end.
Most Effective and google SEO Tools for Your Websites
n today's time, as there is intense competition in almost every field. Business owners strive to set their company or enterprise apart from their competitors. They don't leave any stone unturned in attracting maximum visitors to their website. Usage of specific keywords plays a pivotal role in achieving this. Optimizing your website so that it appears in the top search results is known as search engine optimization (SEO). Nowadays, there are a number of SEO analysis tools that are available in the market. These will help in generating traffic, improve rankings and build a good rapport of the company.
In this post, we are going to showcase the most effective free SEO tools for your websites.
Google Analytics is one of the most essential free SEO tool that is present out there. No other tools can provide you with such detailed and high-quality information like it. This tool will enable an individual to have a better understanding of your visitors and the way they interact on the website. Moreover, there are numerous resources from Google itself that will enable a person to learn using Google Analytics. It is impossible to ignore Google Analytics from any SEO tool list. All the vital data about traffic, site visitors are provided by this source.
Another free SEO tool from Google! In short, the Keyword Planner is the best way to research keywords. The keyword tool and Traffic estimator has made the process of planning search campaigns an easier one.
In order to use Google Keyword Planner, you need to have a Google Adwords account. Then, go to Tools and then Keyword Planner.
The main focus of the tool is on AdWords generation and not on the simple organic keyword research. This is one of the foremost keyword research tools and no other tool can match up with the keyword research that is done by this tool.
It is really important for marketers to predict the trends that are going on in the industry. By knowing where the market is heading towards it will prove to be quite advantageous. In achieving this Google Trends plays an important role. As the name suggests, this tool will showcase the changes in the search volumes for different search items, topics, and terms. By utilizing this tool, you will be able to keep your content fresh and always stay ahead of your competitors. With regard to search marketing, it is necessary to analyze the search query behavior
4- Google Search Console
Last but certainly not least, this list wouldn't be complete without a mention of Google Search Console.
Aside from the fact, the data comes from Google, Google Search Console is rich with insights related to:
Keyword and URL performance.
Indexation issues.
Mobile usability.
Sitemap status.
And much more!
Google Keyword Planner is an INSANELY powerful tool and has some clear benefits. Not least, the fact that it suggests keyword ideas that you can't find anywhere else. Trust me, I checked.
Google Keyword Planner gives you two options to get started, which are:
Find keywords: Get keyword ideas that can help you reach people interested in your product or service;
Get search volume and forecasts: See search volume and other historical metrics for your keywords, as well as forecasts for how they might perform in the future.
Check the speed and usability of your site on multiple devices
Enter a URL, and this tool will test the loading time and performance for desktop and for mobile, plus identify opportunities to improve (and pat you on the back for what you're doing well). The mobile results also come with a user experience score, grading areas like tap targets and font sizes.
Alternatives: Pingdom, WebPageTest, and GTmetrix
 Page speed analysis definition:
as we taking above first and one of the most important parameters of SEO analyzing is Page speed. Analyzing the loading speed of your website is an important factor that has to be taken into account. A light web page that loads quickly enhances the overall user experience. Not only does it affect the user experience but is also one of the factors that influence the site's SEO. You can test your page speed from the PageSpeed Insights tool by Google.
What is Google PageSpeed Insights 
Page loading speed is one of the most important elements of a website. Better site speed leads to increased user satisfaction and higher rankings.
Google PageSpeed Insights is a free tool that checks the speed of your site and provides suggestions to improve it.
How to Use This Tool
Enter your site or blog's URL, click the "analyze" button, and the tool will automatically check the speed and overall user experience of your site and provide a score – for both desktop and mobile UX.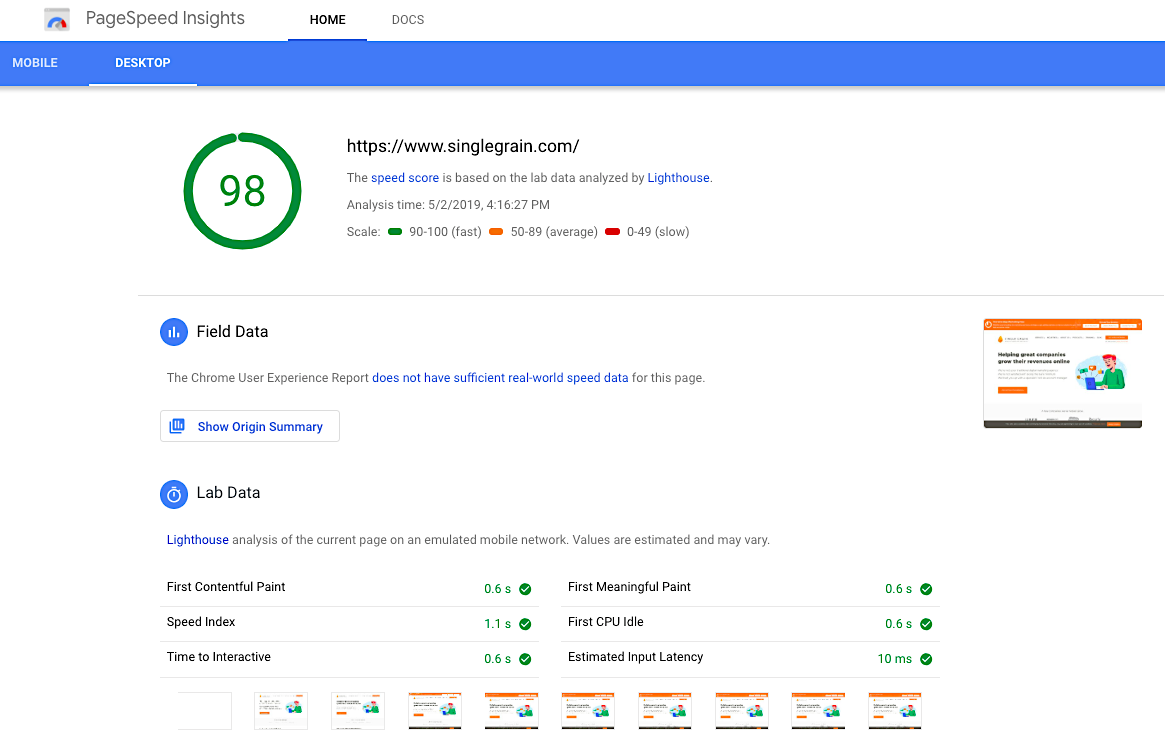 Here's how the scores rank:
A score of 90+ means that your site is FASTER than most other sites.
A score between 50-90 is considered AVERAGE.
A score below 50 means that your site is SLOW.
You need to opt for a score above 90 to offer your users a better site experience and to increase your chances of ranking higher in the search results.
Top Features:
The tool checks the speed of your website on both desktop and mobile.
You can quickly classify your website as fast, average or slow.
It also provides suggestions to improve your page's performance metrics.
Why It's Useful
In July of 2018, Google announced a major update to its mobile ranking factors: page speed became a top-ranking factor for mobile searches. So Google PageSpeed Insights is useful because it helps you optimize your site for page speed which is important to avoid any penalties.
Lighthouse is an open-source tool from Google that audits a web app for PWA features. It provides a set of metrics to help guide you in building a PWA with full application-like experience for your users.
Lighthouse tests if your app:
Can load in offline or flaky network conditions
Is relatively fast
Is served from a secure origin
Uses certain accessibility best practices
Lighthouse is available as a Chrome extension for Chrome 52 (and later) and a command-line tool.
According to the Google Developers site:
Lighthouse tests if your app:

Can load in offline or flaky network conditions
Is relatively fast
Is served from a secure origin
Uses certain accessibility best practices

Lighthouse is available as a Chrome extension for Chrome 52 (and later) and a command line tool.
Our goals in the next article
in the next poster should be to develope this post with details items of lighthouse tool and his detail abilities and functionalities.
Conclusion
It is clear that an SEO analysis is a must for every website and it should be done at regular intervals. While it may be cheaper to check each and every parameter by yourself, it is almost impossible to achieve it. It is best to do this job with the help of advanced tools that can simplify the process.
We hope that this guide helps you conduct an SEO analysis of your website effectively. Feel free to ask any questions that you may have in the comments section below.