Preface
SEO on-page is extremely important. Optimize your SEO on-page is a strategic marketing decision because it allows transmitting all the information about your site to Google(don't forget site SEO training). The on-page SEO  not only helps improve your site for its human users but also helps Google and the bots to read your site properly. When you create a site, it is not automatically indexed by the search engines. Through optimization of on-page SEO, you will send signals to Google to index your site and attract visitors and traffic.
What is On-page SEO?
On-page SEO also referred to as internal SEO  and  SEO On-Page is a set of actions that optimize a site's elements to increase the site's rank and traffic from search engines. On-page SEO means both content optimization and website HTML. On the other hand, there is an On-page SEO, an external SEO or Off-Site SEO that includes links outside of your site as well as other signals coming from your site to the Internet.
Contact us today for anOn-page SEO by Avenger IT Next Generation expert team.
In addition to having a good On-page SEO, it helps the search engines to better interpret your site, it also helps users to understand the content of a page better. In essence, good On-page SEO helps search engines understand what users see on your pages and measure the value of their content. So search engines can thus provide them with the best and most relevant pages for their users.
The ultimate goal of On-page SEO is to help search engines and users:
Understand the content of each page

Recognize your content as the most relevant to search terms
Page evaluation as a valuable and visible page in search results pages (SERPs)
Keywords, content, and SEO of the site
In the past, internal site SEO meant using a lot of keywords around the page. But that is no longer the case, and keywords are not the focus of On-page SEO. Previously, to get a good page rank, keywords were used in most parts of the page and in large numbers to persuade search engines that the page was highly relevant to the keyword and second-hand user experience. It was. Simply put, a page that was not appealing to users would rank high in search results.
But today this method is no longer applicable. Search engines display pages based on their concept to users and also consider keyword synonyms. They also note the repetition of different combinations of keywords plus their synonyms. While keywords are still important, using a fixed form of a keyword and repeating it is no longer important. The top priority for Google is that the page is relevant to the users' wishes. For this reason, always ask yourself after writing an article whether it matches the specific keyword you have chosen for it or not.
This way theOn-page SEO is less about repeating the keywords and putting them in place of the page. Instead, you should pay more attention to who your users are, what they are looking for, and what topics and keywords you can write relevant and user-friendly content. The content of pages that want to have a good On-page SEO should have the following features:
High Depth: Low-quality content was one of the goals of Google Panda. 

If a page has a good chance of ranking well with deep content about the topic.

User-friendly: The content of the site should be free of harassment such as advertising and be easily readable.
Uniqueness: The content of your site should not be copied from other sites and should be privately written.

Validation: The content of the site should, if possible, be credible to ensure that the reader is highly credible.

Keeping up with the purpose of the user: Any content on the site should be tailored to the original purpose of the user and meet their expectations. 

So if you're using a specific keyword to rank, make sure the user who searches for that keyword reaches your target and gets enough information about it.
On-page SEO parameters that are not related to keywords
Apart from the keyword discussion, other factors influence the site's On-page SEO and influence the site's ranking. These factors include:
Inbound links: How many links are there in a page?

 Are they internal or external? 

Where are those links referred to?

Using Schema.Org Structural Data

URLs structure

Mobile display
All of the above parameters point to one thing and it provides a good user experience for site visitors. The better the page performance, the better its internal optimization.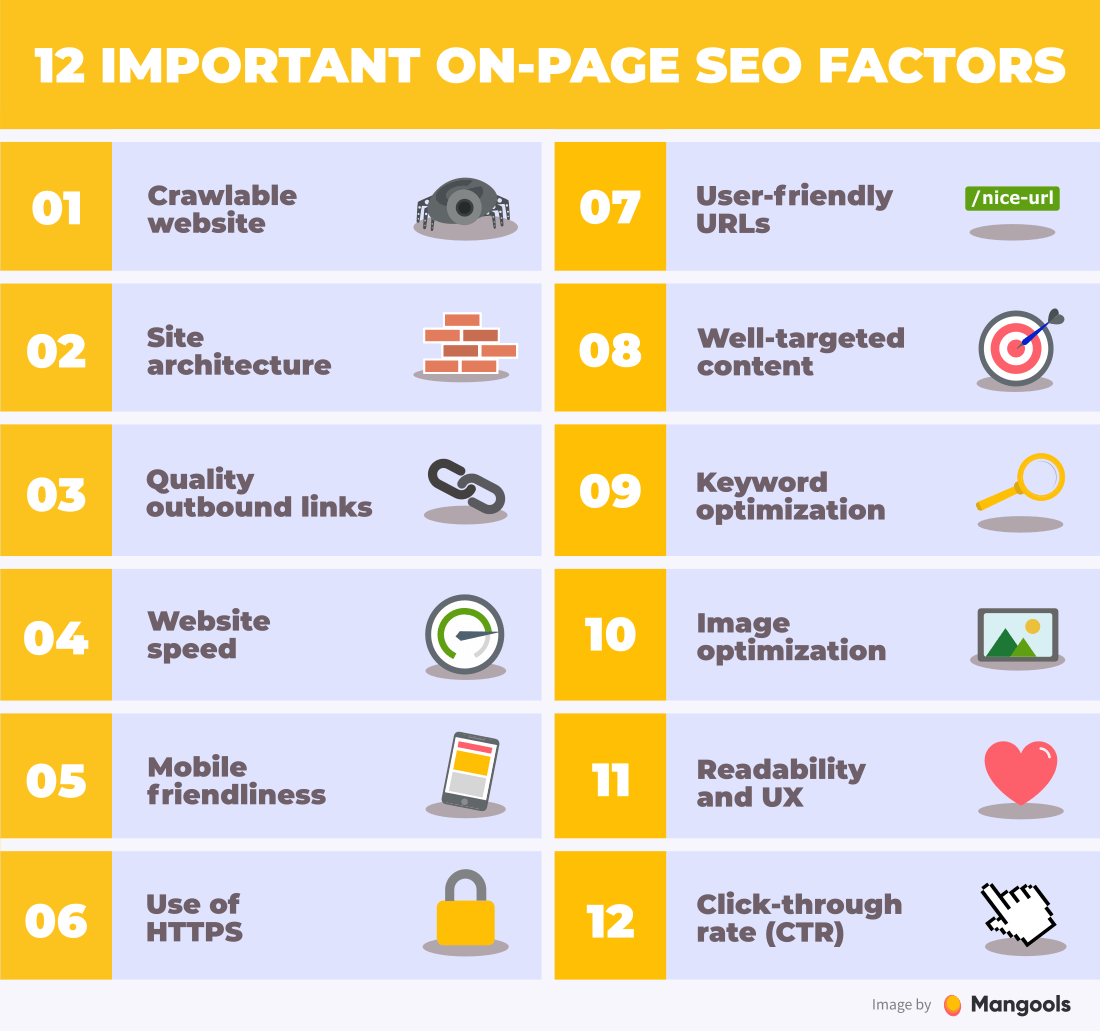 How to optimize a page internally?
Full page SEO and optimization requires changes to both text and page codes. You can accomplish this by using the strategies we provide below and the SEO-related content at the bottom of this page.
Web site SEO training (On-page SEO training)and practical solutions
When it comes to On-page SEO strategies, most people probably remember the meta tags and keywords. If you are looking for practical solutions for On-page SEO, you are in the right place. Here's a checklist of built-in SEO tools to increase traffic to your site.
1. Use the proper URLs
Google has indicated that the first three to five URL words are rated the most. To shorten and read the URLs of the site. Always use the keyword in your URLs.
in other words:
Avoid making ugly URLs.

 

Like: avengering.Com/P=23412

Avoid long URLs too.

 Like: http://developers.jollypad.com/fb/index.php?dmmy=1&fb_sig_in_iframe=1&fb_sig_iframe_key=8e296a067a37563370ded05f5a3bf3ec&fb_sig_locale=bg_BG&fb_sig_in_new_facebook=1&fb_sig_time=1282749119.128&fb_sig_added=1&fb_sig_profile_update_time=1229862039&fb_sig_expires=1282755600&fb_sig_user=761405628&fb_sig_session_key=2.IuyNqrcLQaqPhjzhFiCARg__.3600.1282755600-761405628&fb_sig_ss=igFqJKrhJZWGSRO__Vpx4A__&fb_sig_cookie_sig=a9f110b4fc6a99db01d7d1eb9961fca6&fb_sig_ext_perms=user_birthday,user_religion_politics,user_relationships,user_relationship_details,user_hometown,user_location,user_likes,user_activities,user_interests,user_education_history,user_work_history,user_online_presence,user_website,user_groups,user_events,user_photos,user_videos,user_photo_video_tags,user_notes,user_about_me,user_status,friends_birthday,friends_religion_politics,friends_relationships,friends_relationship_details,friends_hometown,friends_location,friends_likes,friends_activities,friends_interests,friends_education_history,friends_work_history,friends_online_presence,friends_website,friends_groups,friends_events,friends_photos,friends_videos,friends_photo_video_tags,friends_notes,friends_about_me,friends_status&fb_sig_country=bg&fb_sig_api_key=9f7ea9498aabcd12728f8e13369a0528&fb_sig_app_id=177509235268&fb_sig=1a5c6100fa19c1c9b983e2d6ccfc05ef
2. Start the page title with keywords.
The page title is the most important On-page SEO factor of the site. In general, the closer the keyword is to the beginning of the page title, the more likely that page is to rank.
3. Add commonly used words as a page
Practical words like "This Year (2023)", "Best", "Help" and "Review" can greatly help your page rank in higher keywords.
4. Write the title of your post with the H1 tag
The H1 tag is the most important header of any page, and many content management systems automatically add it to the page's code. Check the site codes and make sure this is implemented.
5. Use media files.
Texts aren't just page content. Photos and videos can help reduce site bounce rate. The bounce rate and the amount of time a user spends on a page is one of Google's ranking factors.
6. Place the header subtitles in the H2 tag
Once done, also place the page keyword in the H2 tag.
7. Use the keyword in the first 100 words of the text
Use the keyword of the page in the first 100 to 150 words to induce the user to right-click on the page.
8. Use reactive design
In 2105, Google began penalizing sites that did not have a good mobile display. Certainly, this reaction will be even more intense in the future. We suggest a responsive type to design the site correctly.
9. Use external links
This is one way SEO's white hats get more traffic. External links are links to other sites. This will help Google better understand the content of your page. This will also let Google know that your site is a source of information.
10. Use internal links
Internal links are very effective in SEO and try to use two or five internal links per page.
11. Improve the site speed
Google has explicitly stated that site loading speed is one of the criteria for ranking pages. You can improve your site speed by using CDN, compressing images, and changing your host. Check your site's speed and make sure it doesn't exceed 3 seconds. Research shows that 75% of users do not wait more than 4 seconds to load a page. One of the best site speed testing tools is GTMetrix.
12. Use similar keywords in the page text
Synonyms or LSI keywords help Google understand the content of the page more accurately. So always use words similar to the original keyword in the text.
13. Optimize images
Fill in at least one file image with the keyword and use the keywords in the page replacement text.
14. Use social media sharing buttons
Social signals may not directly affect site rankings, but they certainly increase site traffic.
15. Publish long content
Various experiments have shown that longer items have a better chance of getting a better ranking.
16. Increase the time users visit the page
If a user immediately clicks on the Back button after logging in to your site through Google results, Google will rate your page as poor. The presence of users on your site is a testament to the quality of content that Google sees. Keep users on the site by writing accurate and lofty content, and so on.
17. Encourage users to comment
It has been empirically observed that sites that have more comments on their posts usually rank better. Google has also indirectly endorsed this: sites that have more active users are ranked higher.
On-page SEO and social networks
We see almost everywhere and yet we do not necessarily think: buttons sharing on social networks! Yes, because creating content is not enough. We must also promote the content in question!
In addition to talking about you and your social networks – platforms on which you must be present – invite your visitors to share your content too.
Social networks represent considerable communities. Do not miss out on an incredible chance to see your content go around the web.
Not to mention that more content will be shared and relayed on social media, the more we talk about you on the web.
Consequences? You gain notoriety, visibility, and positions!
Do you know what you have left to do? To define yourself to include this new information in your SEO strategy to achieve the first SERP results!
As always, do not hesitate to tell us about your progress and your questions in a comment.
conclusion
All in all, having a well-indexed website requires assembling many pieces. Like a puzzle. These on-page SEO factors, if executed properly, will help you position your site on the first page of the search results. If you want Google to know your site and promote it in search results, then you should follow these SEO tips on-page so that it can read your site properly.