preface: Role of Domain in SEO
In this article, we will define the domain and its related topics in SEO. we explain the role of domain name in SEO. A good ranking is crucial for every commercial web project since the majority of potential customers get to your site through search engines. The flagship of every website is an appropriate domain name.
The domain name is generally the first thing that a visitor will see on your site.  If possible always try to match your domain with your business name to assist in brand recognition, sometimes it is not possible to buy the exact domain as your business name, so try to include at least one major keywords related to your company. .Com is the ideal high-level domain, but you'll think about buying alternative top-level domains to confirm you have the benefit of your marketing strategies.
What is Domain?
The domain name is the unique address of a site. This name consists of three parts: Top-Level Domain or Domain Name, Domain Name or Subdomain or Domain Prefix of your choice.
The combination of the domain name and its extension is called the Root Domain. The Http: // part is part of the page address and its protocol, but not part of the domain name.
Here's a closer look at each of these parts.
Domain Extension Part
Domain extensions include expressions that appear at the end of the domain name and are examples of:
.com
.net
.org
.edu
These extensions are available in over 1,000 types and include less commonly used items such as.Book., Clothing., Dog and.Life insurance. There is also a country-wide suffix extension, and the extension's name is France .fr
Domain Name
The domain name is its second hierarchical level. This name was purchased through Registries and is highlighted in the following examples:
www. example .org
www. Moz .com
Search engines use domain names in site ranking parameters, but their impact is not high due to spam abuse. That's why Google deals with very long names that resemble very long keywords.
Root Domain
The name was originally coined in the DNS field but is generally referred to as a combination of the two domains and its extension. The Root Domain section of your site is probably the homepage of the site and their subdomains appear as Subdomain. The point is that all subdomains include Root Domain.
Examples of Root Domains include:
All pages belonging to the same site have the same Root Domain and no two different websites can have the same Root Domain.
Because Root domains represent the entire site, so they are a more appropriate parameter for displaying the number of backlinks than a site's number parameter. You can discover the number of links given to a site's Root Domain using tools like Open Site Explorer.
Subdomain part
This is the third level hierarchical domain of a domain. The subdomain starts before the domain name and is separated by a dot. For example, "blog.example.com" and "english.example.com" are examples of the "wxample.com" subdomain. Creating a subdomain in any domain is free and can be created and controlled in any webmaster.
The most commonly used subdomain in a domain is http://www.example.com which in this example is the www subdomain.
Highlights of SEO for Domains
To get the best SEO performance in the domain selection of a site, the following points are not to be missed.
1. Choose a domain name to keep in mind and memorable
Try to choose a domain name that is short, easy to remember and type and easy to pronounce. These are very useful in enhancing domain advertising because users will only see your site through ads once and will remember it if the domain name is easy.
The human mind is so easy to store words, so avoid using numbers, non-standard characters, and unusual spelling on the domain name. Also, the number of domain name characters should not exceed 15.
In recent years, search engines have brought their algorithms closer to human perception, so shorter and memorable names are one of the positive parameters in ranking a site.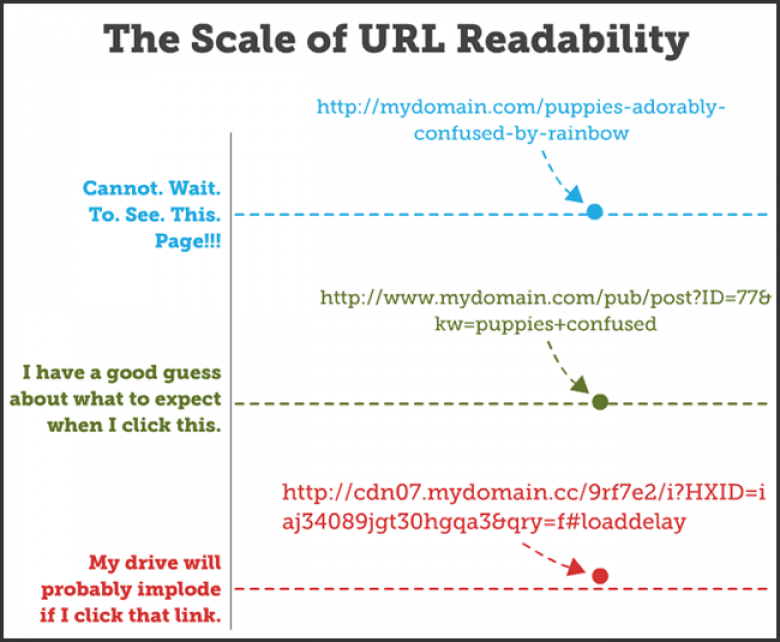 2. When more reasonable, use more comprehensive keywords
Whenever you feel like it's okay, use business-related names in a broader sense. Always remember that the association of a domain name with a search term should not be a reason for using very long keywords in choosing a domain name.
In recent years, Google has made some changes to its search algorithm, bringing down domain name preference. Having a good keyword in the domain is still important, but it can make Google more rigorous when reviewing your site. So use the domain name keywords quite sensibly.
3. Avoid using lines in the domain name as much as possible
If your domain name is made up of two words like www.examplesite.com, it may come to your mind that you might separate the two words in one line. But be aware that the use of lines in the domain name reduces its readability and is closely linked to spam activities. For this reason, generally, do not try to use lines in the domain name.
4. Try using the .com extension
When purchasing a domain name, you will probably find that the domain name does not exist for the .com extension, and the registrars will suggest alternative extensions with the same name. Purchases of non-functional extensions such as .biz, .info, .ws and .name are not recommended. These extensions are not very popular and don't stay in mind. So choose as many domain names as possible with .com.
5. Use Subfolders instead of Subdomains
Google has announced that there is no difference between Subdomain and Subfolder content ranking. But our suggestion and most of the experts is to make the content of your blog as Subfolder for example. (Use www.example.com/blog/ instead of using blog.example.com)
The only exceptions to this are multilingual sites, for example, the English version of your site at en.example.com.
6. Don't pay too much attention to domain life
The impact of domain life on ranking and SEO parameters is still a mystery. Although most people think domain life is having a better impact on SEO, Google's senior staffer Matt Katz said in a statement that, according to his information range, no domain search engine in its ranking parameters. It does not use. According to him, a short domain life would not be a reason for site owners to change their name, and also the expiration date of the domain will not have a particular impact on site rankings and the longer domain expiration will only indicate your importance to maintaining your domain.
What is important to Google in this area is the start date of the first site monitoring and backlinks it found. Matt Katz has emphasized that there is no difference between a domain with a life of six months and a domain with a life of one year.
7. Domain Transfer
When a webmaster decides to move a domain, he has to pay attention to important things such as directories. The redirects should be such that each subset is redirected to its appropriate subdirectory. From an SEO perspective, redirecting entire pages to the homepage is not a good option to simplify.
if you want to transfer your domain, we recommend that you need to mention the following items:
The domain should be more than 60 days old;
The domain was not transferred between registrars within the last 60 days;
The domain is "Unlocked" for transfer ("Registrar Lock" is disabled);
WhoisGuard is disabled;
The domain is showing valid and up-to-date information for the Administrative and Registrant contacts in the WHOIS.
Conclusion
Choosing the right domain is an important step if you want your web project to be successful in the long run. You should choose the domain name for the user, rather than for SEO reasons. A short, memorable domain name with thematic relevance and recognition is essential here. It depends on the company's strategic direction as to whether the brand name, a relevant keyword or a combination of both is the right choice. It also depends on whether your desired name and TLD is available.
be sure the role of domain name in SEO is very important, and you obey all of seven  above gold secrets about the influence of the role of domain name in SEO