Preface
One of the most obscure parts of SEO WordPress (SEO Categories and Tags in WordPress)  is how to optimize categories and tags. Many people are unaware of the role of these pages in SEO and some may harm the SEO site by their wrong actions.
In this post, you will learn the concepts of SEO Categories and Tags in WordPress. also you will learn what is the difference between a category and a label and what should be the SEO in each of these pages?
What is a Category Page?
Categories allow you to group multiple posts. Such a page is like your blog page, except that only posts from a specific group are displayed. When creating a post you have the option to choose one or more categories. While this is not possible in the WordPress tabs section.
A WordPress optimized theme handles each post like the one below in the Breadcrumbs shows.
Site category pages may have sidebar similar to posts. This depends on the layout of your website, but most of the time the post pages and categories have the same layout. Usually, the category page has titles of posts, pictures and a brief description of them. There is also a number at the end of the page for the layout of all the posts in a category.
One of the good architectures on a website is to put all the posts in a group into one category and put the category name in the main menu.

SEO Pages Categories
From an SEO perspective, Category pages have several issues. The duplicate content problem is one of these. A batch page that has a basic description of the posts does not have standalone content because it belongs to the pages of the posts. This is also the case with store websites. These websites often have a listing page with a list of products and usually no original content.
So it's hard to get a ranking on the category pages. That's why Google is often interested in showing a product page in search results instead of a category page.
With a simple Google search, you will find that in many cases the categorization pages do not appear in the search results. Google only displays category pages if they are of higher quality than the posts, while most users are searching for the keyword they want.
When are pages useful for SEO? (SEO Categories and Tags in WordPress)
Categories on corporate blogs and websites are often used to increase site performance and make it easier for users to find content. They are almost ineffective in terms of SEO. But in-store websites, services or even tourism, categories play an important role because they can serve as landing pages.
Here's an example. Imagine that you have a website where the introduction of" villas rented south France" paid. On your website categories called" villas Nice", " Villas Antibes" and on the other your pages villas such as" Villa 2000 meters in the Nice" There.
When users search for" Nice Villa Rental", you expect users to land on the Nice Rental Homes category page, rather than entering one of Nice Villas. If Google does not show your categorization pages in the search results in this scenario, it is probably the case that this search engine considers villa pages to be more valuable than categories.
But how to overcome this problem?
There are ways we can help our website show Google the category pages in search results. At the beginning of the page, a batch should have good title and meta-discrimination.
Choosing a page title for categories is just like any other site page and follows the same rules.
The next step in the category page should be original content. To solve this problem, you need to add a few paragraphs of content to these pages. This content is often displayed at the top of the screen. But generally, it's up or down depending on the site's shell settings. If you do this correctly, your category page will have an optimized, attractive meta-description   And a header tag  H1 would be good.
Next, it is advisable to index the second pages onwards. For example, if a category has 100 posts and each page has at least 10 posts, the page will be divided into ten more. It is advisable to index the second and next pages to avoid duplicate content. All these actions are in the direction of internal SEO  Better the category page.
some more advanced SEO categories for WordPress
Suppose you did all of this, but you still see Google still displaying the posts page instead of the category page. So we need to take more action in such circumstances.
Make sure there is a clickable Breadcrumbs in the category and posts pages, and a Skima Markup Breadcrumbs is also configured. In our example, the board for a villa will be as follows:
Main Page > Nice Villas > 2000 meters villa on the seaside
Nice Villas should have a link to the Nice Rental category page here. The next step is to create internal links along with anchor texts appropriate to the Nice Villas page. For example, the page content" villa 500 meters from the water's edge" can include " Villa Nice " on page category villas Nice site link.
These built-in links help Google realize the importance of the category page. Users can also navigate the web better.
Check that the category name inadvertently does not appear in the name of one of the posts. If this is the case, Google probably won't notice your target page. For example, as" Villa Nice – Villa rental 500 m" as appropriate to be one of the posts in category Villas Nice.
The title of a post on a post should be specific to the features of the villa itself and not a category expression. The content should also focus on the features of the villa rather than relying on the name of the city. The above concepts can be applied to any blog or online store. The latter is one of the more advanced batch and archive optimization techniques.
There are no SEO benefits to adding multiple categories. If you think it helps your users, then you are more than welcome to add one post into multiple categories. However, if you see this becoming a regular issue, then you should consider restructuring your categories. Maybe some of your categories need to be tagged. Or maybe they should be subcategories of one major category. It is mainly about making the user experience better.
If you are super concerned about the duplicate content penalty, then simply (noindex, follow) your category taxonomy using the WordPress SEO by Yoast plugin.
Should I use subcategories?
No of course not. You can still leave popular tags as tags. In our example above, almost all articles will have a tag for a specific social media network like Twitter, Facebook, etc. But we do not create them as categories. The only reason you add subcategories is to allow users to easily search for content. You are more than welcome to simply add the Expert Interviews tag to your site somewhere.
Keep in mind that the purpose of categories and tags is to make it easier for your users to navigate your site.
What is a tag page?
Adding a tag to each post will create a page for it. The default URLs are labeled pages www.yourdomain.com/tag/tag-name Is.
Allows tags to be grouped as posts.
The tag page usually has the same format as the category page.
The tag page is not often displayed in the menu unless you reasonably include it in this section.
Pages tags also have similar problems with category pages(not independent content) are.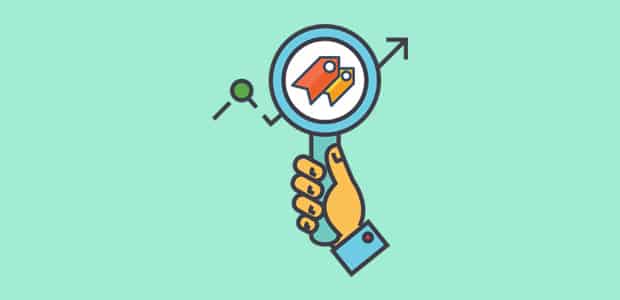 The same optimization as for the category pages in the previous section applies to the tag pages as well. In most cases, tag pages are created to improve the performance of the site and to help users. There are many cases where users use similar terms with category name and post name in the labels, which is not good for SEO at all.
We've even seen it repeatedly tagged in search results instead of the homepage, which in no way affects the user experience.
SEO Solutions Page Tags
In many scenarios, it is suggested to re-index the tags that are not considered landing pages (most of them are). This will not show the search engines these pages in the search results. This saves you time and optimizes your website.
Be sure to remove the URLs from the site map after indexing the tags. If for any reason you are interested in indexing some site tags, use them carefully on site pages and do not overdo it.
But how to index tags pages?
How to do it depends on the SEO template or plugin installed on the site. If the plugin Yoast SEO You use, be it from the menu to the" appearance Search" and then the tab" Categories" go. Tags section and choose" View Tags in search results" to" not" change.
Conclusion
The category and tag sections are available by default on all WordPress websites. Many people override these optimizations, but as you can see, ignoring them will harm SEO.
Take a look at your website structure before making any changes to the categories and tags. If site category pages are created for the sole purpose of directing users to other parts of the site and are not to be displayed in search results, it is best to index them and delete their address from the site map. But if category pages like the Villa Rental site are important to SEO, optimize them and send them good signals to Google.
As for tag pages, index them if you just need them to show up in search results, otherwise, they don't need to be in Google index. The chances of a page being tagged are very low, so the best way to handle scenarios is to index them.
In the end, the categories and tags in WordPress are very important for organizing the content of your website and making sure everything is easy for the reader to follow. That's why we strongly recommend that you spend 5 to 10 minutes this day creating the appropriate category and tag structure on your site.