Preface
Business notwithstanding its sphere is digitized, so to implement SEO strategy is important in a proper way. SERP results are a necessary part of it and easy SEO tracking Google SERP checker is a competitive advantage. so nowadays we use the vocabulary of SERP SEO. Every SEO expert Must know the answer to this question: what is SERP SEO?
What is SERP?
SERP stands for Search Engine Results Page. The SERP has changed a lot over the past few years and many more have been added.
SERP (SERP Ranking) features include:
Rich Snippets, which adds a visual layer to the search results. (Such as stars displayed in product ratings)
The money results are displayed using Google AdWords.

General results are displayed alongside the organic results.

 

(Show pictures, Show news)

Knowledge graph that is displayed in the form of a panel or box.

 

(Such as weather, celebrity info)
In the early years of Google's work, all of the SERP search results were the same, and over the years, this type of display had not changed.
However, in 2001, with the introduction of AdWords, Google made many changes to the SERP and added new features.
What are the most important features of SERP?
Below, we introduce a variety of SERP features and categorize the inorganic data that Google adds to the search results page. These data are:
Adwords Bottom Page
Google ads are displayed in a variety of ways, but the most common of these is displaying ads above or below the search results that appear with the word ad.
Google ads are displayed based on the keyword you are searching for, how much you spend on ads, and other factors.
Adwords Top
This type of Google ad appears above the search results. Google ads at the top of the page lower the natural search results and can affect CTR.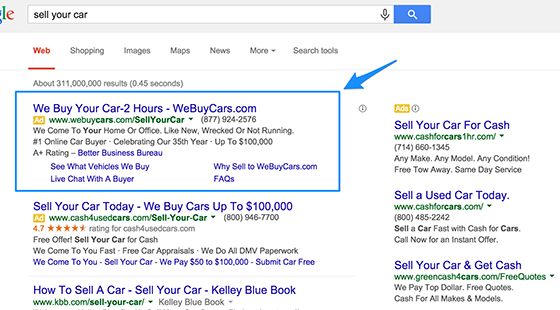 Google ads are displayed based on the keyword searched, the amount of user spend for the ads, and other parameters.
Featured Snippet
When Google wants to answer a question that is not in the knowledge graph, it may use information from a reputable site and place its answer at the top of the page based on its index. This type of information display is special and the information is taken from the source page. Featured Snippet has a higher CTR than Google's natural results.
Featured Snippets have the following features:
The results from the front page case make Google more prominent.

Extracts content from the page that answers the user's question and makes it more prominent.
This gives you a good chance of being seen on sites ranked by one to five Google. Unfortunately, there is no Persian version of this case yet.
Image Pack
Image packs are a horizontal view of several images that will lead you to Google image search. They appear naturally and usually at the top of the search results page.
The images in the SERP and SERP SEO are displayed to search for words that make Google feel that video content will be of value to the user.
To display your site's images on the Google image search results page, follow these steps:
The appropriate file name

Related alternative text in the Alt tag

Understandable URLs

Optimize image size

Page Title Optimization
Comprehensive Content (In-Depth Article)
For search terms that have a wide range of meanings, Google may place comprehensive content in a separate block of natural results. They have different ranking rules than natural results and are usually provided by large publishers.
Comprehensive content often belongs to very large publishers and they usually have the following tags on their pages:
Long content (2000 to 5000 words)

Content with schema 

Mark Up Authorship

Quality and special content
Knowledge Card
Knowledge cards, which are part of the knowledge graph, usually present information generated by users (such as Wikipedia information) in a block. This block is often displayed at the top of search results.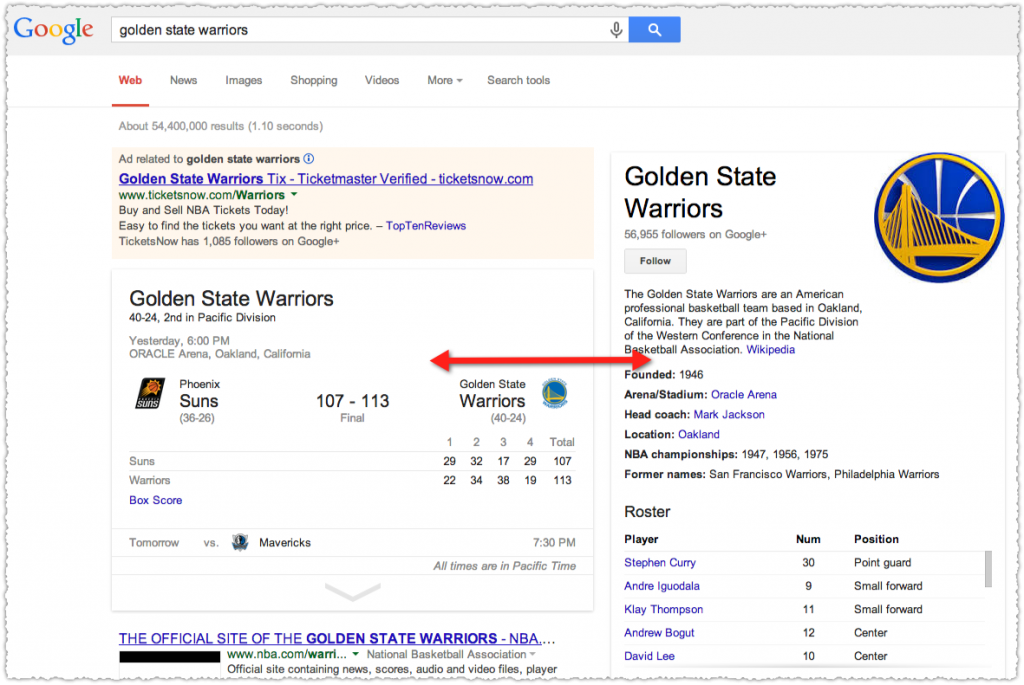 Understanding this helps us understand what kind of data is influenced by the knowledge graph, and we can prioritize our keywords and gauge Google's attitude toward the world around us.
Knowledge Panel
The knowledge panel, or the same knowledge graph, displays information generated by users from sources such as Wikipedia. This panel is often displayed at the top of the search results and to the right of the screen.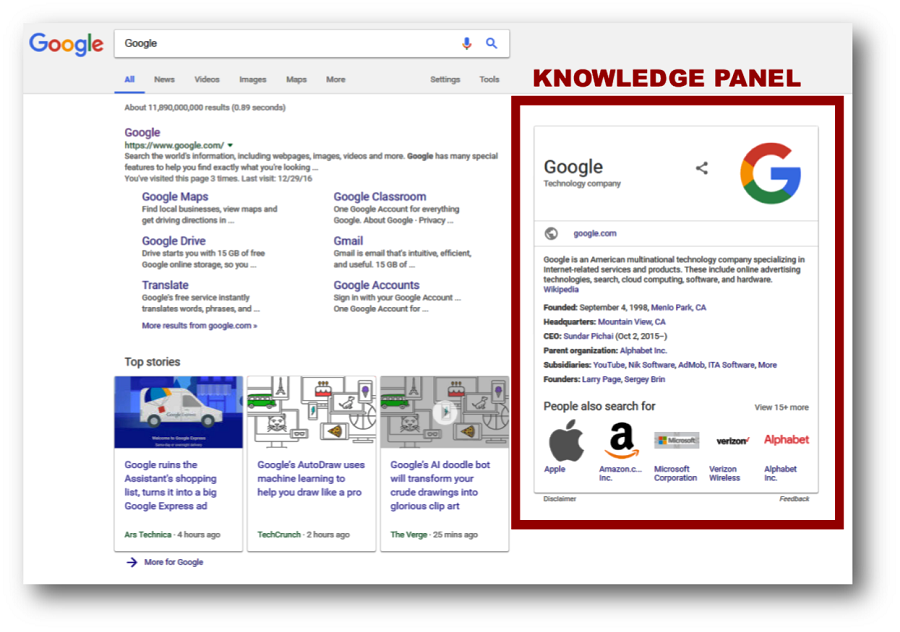 Because this panel's data is collected from wiki sites, it is unlikely that it will display the information of most sites in this panel.
Local Pack
For the words it feels would be useful to display location information, Google suggests places on top of Google's results called the location pack. These location packages often include three of the locations associated with the searched word. This SERP( SERP SEO ) feature is especially popular on mobile phones.
0n-page-SEO is a tool that helps a lot to put our site in a local package. This type of SEO has been greatly promoted in recent years and Google is also very important.
Local Teaser Pack
This pack is similar to the local pack, with three locations appearing on Google Maps. This pack displays information such as reviews, opening hours and images uploaded to that location.
News Box
News topics sometimes have a block of their own. This news was usually taken from Google News, but from 2014 onwards there has been widespread suffering from sites on the block. This feature has been seen in Persian for some time.
Related Questions
The Related Questions Panel displays similar questions that you believe may be your question, along with the answer. Each question is subdivided into several other questions and listed below. Related questions are next to the natural search results in the SERP and may vary depending on your location.
The Related Questions panel has two things:
Related queries contain the keywords that have been searched

Sites that are strong in Featured Snippet will also succeed
Reviews
Stars associated with ratings of goods and materials are sometimes displayed next to the post. Results with scoring stars usually have a higher CTR. For these stars to be displayed by Google in the search results, you must use the markup on the page.
Shopping Results
Store results that display store products for a price are a SERP feature. View products along with their photos and prices.
Site Links
When a user searches for a brand name, Google may display more extensive links, up to a maximum of 10. Site links are useful for your site due to the following two factors:
Get more CTR than SERP

Direct users to the page they want directly
Two factors influence the selection of link site items:
Word Type Search – Site links are often displayed by searching for brand names.

Site Traffic – Site links are often displayed for high-traffic, high-page sites.
tweets
In 2015, Google began displaying tweets alongside search results and directly on the SERP. Contrary to Google Plus results, the tweets displayed are not personalized. Twitter results aren't normal, but they do increase brand exposure.
Video (Video)
Video results that usually include YouTube videos appear as a profile in the SERP. It is noteworthy that the video results are displayed in search of specific keywords.
How Can I Improve My SERP Ranking(
what is SERP SEO?)

?

the main question is what is SERP SEO? and how can we improve our ranking? So we have the top 5 tips for you to improve your SERP ranking:
Make only relevant posts
The unique content of high quality is necessary to point. It increases traffic and gives the target audience. As a result of your site authority also increases. Think over key-phrases and words for each page! The target audience should easily find your web-page, for that you should consider what users think when typing the needful for them phrase into the search engine. Use different keywords, but don't overdo with them.
Don't forget to update the content consistently
Search engines are feeling pretty strongly about the content. If you update the content they indicate your website as relevant and useful. SERPs' search engine show considering the regularity of updating your content.
Proper Metadata
Every site should have a place for inserting such metadata as Title, Meta Description, subtitles, keywords. Give the proper option to all of them!
Build a strong link strategy
We often submit external links "click here". The credibility of such a link isn't strong enough. You may add the destination and several keywords to your link. Use descriptive links – they would be useful for the readers and improve the optimization of your site. SERP listing is one of the main components, for which all webmasters are fighting, so link strategy should work properly to achieve high positions.
Consider Alt tags.
Alt tags should be used while you're describing video media and images. Search engines will locate the page where you use images and video, so your alternative text descriptions and alt tags should be done in a proper way
Conclusion
In the end, if you want to know what is SERP SEO? please don't forget the following golden advise to get most effective SERP ranking and SERP SEO:
Make only relevant posts
Don't forget to update the content
consistently proper
Build a strong link strategy.
MetadataConsider alt tags.