Search engines are the best source of traffic for many sites and are still the most reliable and reliable source of traffic on the Internet. WordPress is one of the best SEO content management systems used on millions of websites. SEO WordPress plugins play an important role in helping a huge number of webmasters. These SEO plugins optimize WordPress sites and rank them in search results.
There are many free and paid SEO WordPress plugins in the WordPress repository. But not all of them deliver good results in SEO. This can be confusing and confusing for users who are just starting with WordPress and want to choose the right SEO plugin. Here are some of the best SEO WordPress plugins to help you decide on the right SEO site plugin.
But before we start introducing these extensions, let's consider some considerations that should be considered before choosing an extension.
SEO is generally divided into two categories: internal SEO and external SEO. If this is the first time that the term SEO has come to your mind, we suggest you read what is SEO? and read the basics of SEO.
How to choose a good SEO WordPress plugin?
A good SEO plugin or plugin for WordPress should have the following features:
Correct and clean coding
A good SEO plugin should have clean code and no JavaScript and extra CSS which only increases the loading time. This does not guarantee the high speed of the plugin and does not slow down the site loading. The code for each plugin should also include comments so that each part of the code can be easily understood. Clean code is the foundation of a good and efficient WordPress plugin.
Abundant SEO features
A good SEO plugin should have several SEO features to keep you from installing other plugins and thus reduce the number of plugins installed on the site. There are many extensions like the 301 redirection plugin that do only one specific task. The best SEO WordPress plugins presented in this post all have a lot of features and do several things. Installing too many plugins on a website is not recommended at all, as this will increase the site loading time.
Full documentation
Plugin documentation is essential to get to know all the features of a plugin. This documentation can be in the form of video or text with images that teach you how to install, configure and update the plugin. Most SEO plugins come with an admin control panel and are configured by default. A superior SEO plugin should have a detailed description of how each part works, and preferably a brief explanation of how the options work using the controls.
Good support
A good SEO plugin should have good customer support. The free SEO plugins available in the WordPress repository come with free support in their forums. Before installing any plugin on the website go to its support section and take a look at the activity of the plugin users and developer. Also, using this support section can detect problems in the plugin and find out their solutions.
Positive reviews and high ratings
All SEO WordPress Plugins can be rated and reviewed by your users and this can be your guide to knowing the value of installing them on your site. For free SEO WordPress plugins, this section can be a good start to evaluate it and know how much users are satisfied with it.
Regular updates
A WordPress SEO WordPress plugin needs to be regularly updated by its developer to make sure it is always compatible with the latest WordPress version. Installing a plug-in that has not been updated for a long time makes the site prone to hack and causing the plug-ins to be incompatible with each other and the core WordPress theme. This should not be overlooked when choosing the best SEO WordPress plugins. Check the history of plugin updates and check their date. Also, check the type of updates to find out more about its support.
Plugin Matching
SEO WordPress plugins need to be compatible with other plugins as well. Not paying attention to this can cause many problems on the site and even disable it altogether. Especially plugins that use JavaScript libraries are more likely to cause such problems.
The best SEO plugins in WordPress
Choosing the right SEO plugin can be a condition of your site's success. There are a variety of SEO plugins available in WordPress that provide many features to users. But among them are just a few extensions that offer all the functionality required in SEO.
Before selecting any plugin for the site you need to evaluate your SEO needs. For example, there are plugins in WordPress that only optimize images to speed up the site and others create site maps. These one-of-a-kind extensions cannot be used alone for SEO of the entire site.
Here are some of the top 20 SEO plugins for WordPress.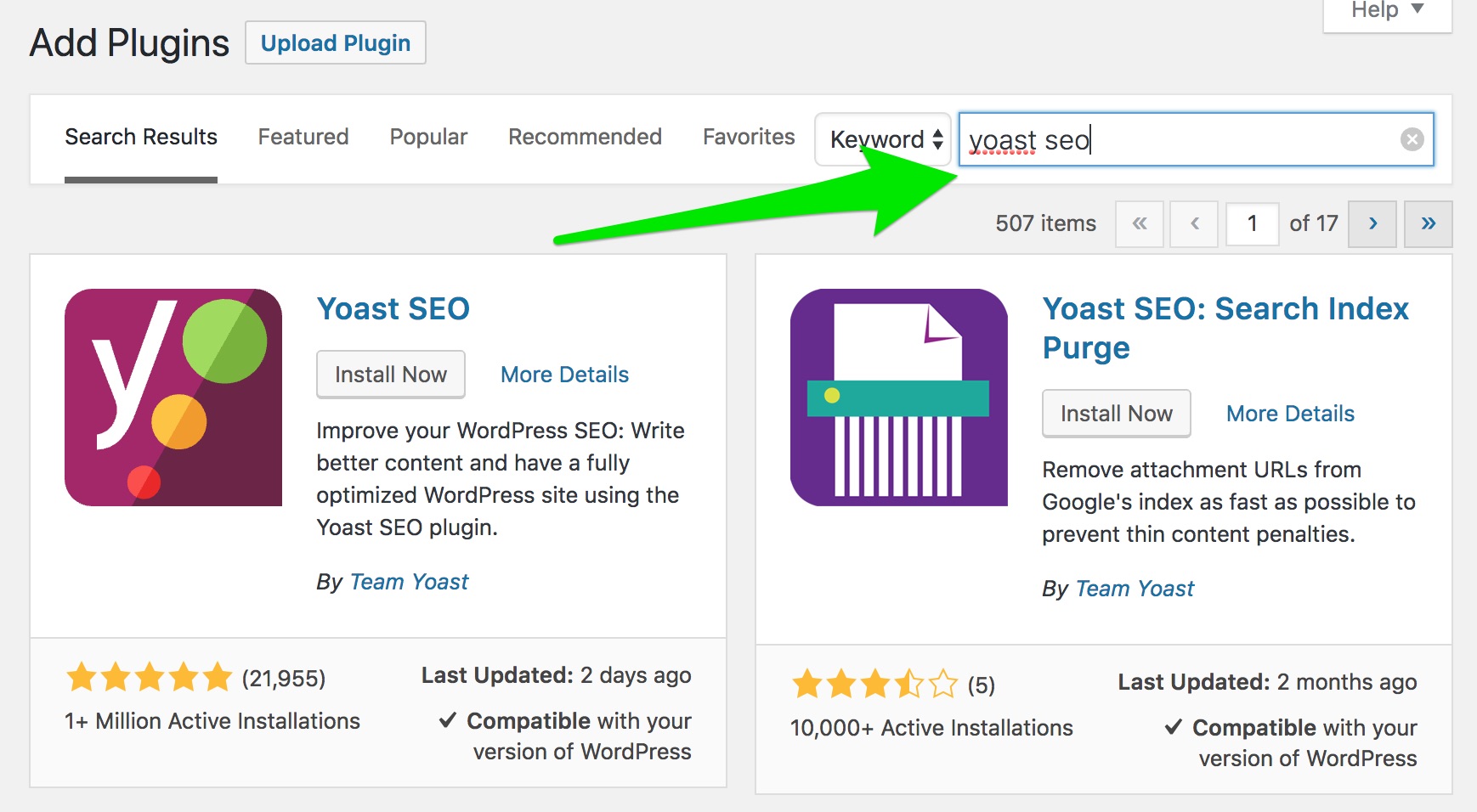 The Yoast SEO plugin is by far the most popular among other popular SEO plugins among users. This plugin is used by millions of webmasters to build internal SEO posts and pages of their WordPress sites. The popularity of the Yoast SEO plugin is due to its many features such as page title editing and meta descriptions, site mapping and URLs settings.
A good feature of the Yoast SEO plugin is the ability to create a sitemap and link it to a Google search console.
The site map created by this plugin can also be connected to the Webmaster Bing console.
This plugin is one of the leading SEO plugins in WordPress by installing 3 million free copies on site.
The Yoast SEO plugin analyzes the SEO of your pages and gives it ratings based on the keyword.
You can also find out by optimizing colors by not having a page by viewing colors.
The Yoast SEO plugin is free and you can download and install it from the WordPress repository. But you can get the premium version for a fraction of the cost.
The premium version of this plugin allows you to include more keywords for a page and optimize pages.
The Yoast SEO plugin has modules for social networks that you can use to manage site content sharing.
The Yoast SEO plugin is the most compatible with all plugins and is available for free.
The All In One SEO Pack plugin is a comprehensive WordPress plugin that is used to optimize posts and pages. Like Yoast SEO, this plugin is very popular among WordPress users and has been installed over three million times. Features of this plugin include:
You can build an XML sitemap and easily submit it to Google and Bing search console to reap the benefits of ranking.
The All In One SEO Pack plugin supports AMP (mobile rush pages) and can play a key role in SEO.
This SEO extension is supported by Google Analytics and can be easily tracked by users on the website.
Custom post optimization is another SEO feature of this plugin.
This plugin supports canonical ULSs.
With this plugin, you can redirect a page's extensions to its original address so that there is no problem with SEO.
This extension can automatically notify Google and Bing of new changes.
The All In One SEO Pack plugin has built-in APIs that allow other plugins and themes to access and enhance their performance.
All In One SEO Pack is the only free plug-in that can integrate with online stores and also supports Woocommrce.
This plugin is compatible with PHP version seven and has excellent security features to prevent hacking.
The plugin automatically optimizes posts, pages, and custom page types to increase search rankings and can automatically generate meta tags. It also avoids being trapped in a duplicate content problem.
The All In One SEO Pack plugin is a great option for beginners since it starts right after installation and requires no additional settings. This extension also has many customization options for business users and keeps them happy.
The All In One SEO Pack plugin is the second most popular SEO WordPress plugin and has received high ratings from its users. This plugin also comes with a premium version that you can get special support by purchasing it.

The SEO Ultimate plugin is another comprehensive SEO plugin for WordPress repository that is available for free. As the name implies, this plugin has a lot of functionality for internal website SEO.
This extension always has 200,000 active installations and is growing in popularity. One of the major issues with this plugin is its lack of support in the WordPress community and you need to get the Premium version to get its email support. Its premium version also has more features and video tutorials on how to work with it. Here is a summary of the general features of the SEO Ultimate plugin:
Title tag rewriter feature This plugin lets you edit the title of posts and optimize them for internal SEO and higher rankings.
The meta description editor lets you add meta descriptions to posts, pages, categories, extensions, tags, and even the homepage. It also has meta-discretion optimization capabilities.
This plug-in generates great text anchors to promote internal SEO by link deep Juggernaut to create links between related posts. These internal links play an important role in SEO.
Open graph feature This plugin can automatically create open graph data for posts, users, profiles and homepage.
Snippet creator feature This plugin can generate structured data to create Rich Snippets for pages.
Author highlighter feature This plugin adds code to pages so that the author's Google+ page is linked to the article and has the chance to appear in search results.
Redefining 404 monitors redirects pages, giving users and search engines a better experience of working with the site.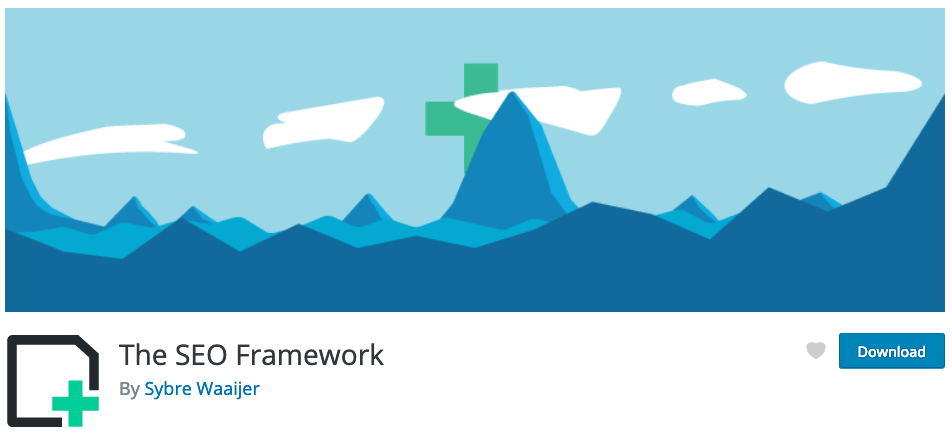 The SEO Framework plugin is free and automatically implements and executes SEO solutions. The presence of this plugin in any site is very ideal and improves SEO and its content value.
This plugin is suitable for all webmasters both novice and professional. The SEO Framework plugin is without a mark on the website, so no one can figure out what tools you are using. This plugin takes advantage of WordPress features and integrates it with its core code.
This plugin does not contain any ads and therefore does not harm webmasters. It only inserts comments in HTML code that is disabled using a filter. This plug-in allows users to set different standards for each page or post.
The plugins use a temporary cache system that can be upgraded to the PHP level. This reduces site loading time, especially when using a large amount of metadata. With this plugin, you will not need any more plugins to manage your WordPress cache.
Here's an overview of the capabilities of The SEO Framework plugin:
This plugin supports custom posts like bbPress and WooCommerce.
Implementing SEO solutions for beginners is very user-friendly and simple.
This plug-in prevents the creation of duplicate content by generating canonical ULSs, supporting full domain and subdomain mapping as well as the HTTPS protocol.
The plugin creates open graph images and automatically resizes them to make it more user-friendly.
This plugin allows users to create 100 sitemaps and also provides structured data for pages.
With this WordPress plugin, it is easy to share site pages on social networks.
With its default settings, this plugin provides a good starting point for many types of sites.
There are general SEO settings in this plugin.
This plugin prevents indexing of 404 pages and empty categories.
Site updates can inform site search engines like Google, Bing, and Yandex.
SEO SQUIRRLY is a free SEO plugin that helps users who do not know SEO. This plugin can create quality content for both users and search engines. This increases the site's ranking in search results as well as generates useful content.
One of the features of this plugin is checking the content marketing of the site with the help of a popular internet tool. This will help you to view and improve SEO site statistics. These statistics are also reported to you weekly.
You can email these reports to the site authors. These reports include information that illustrates the weaknesses of the site's content and can also be trained in content marketing.
This plugin will be compatible with most extensions and templates available on your site. The strength of this extension is its ability to optimize content while writing or editing it. The SEO SQUIRRLY plugin lets you find the key topics and phrases your site users are interested in to outperform your competitors. Here are some features of this plugin:
This plugin creates copyright for images.
This plugin helps to produce quality content.
This WordPress plugin lets you focus on your online store's SEO strategy with just a few clicks.
With this plugin, you can define structured data for pages and customize the appearance of pages in Google search results.
SEO SQUIRRELY plugin creates a site map for Google and Bing.
This plugin can email you serious site problems and let you know about it quickly.
This plugin is equipped with an open graph generator for site pages to index your site's links on social networks to your liking.
This free WordPress plugin allows you to display structured data of site pages in Google, Yahoo and Bing search results. This data often includes content image, author image, page rating, and other relevant information. The following is a list of features for this plugin:
This plugin creates a fascinating Rich Snippet in search results and sets you apart from your competitors.
This plugin improves the site's click rate in search results.
This extension increases the site's ranking in search results.
This plugin properly displays site information when sharing page links on Facebook.
The All In One Schema.org Rich Snippets plugin includes a variety of structured data such as reviews, content, people, products, events, and recipes.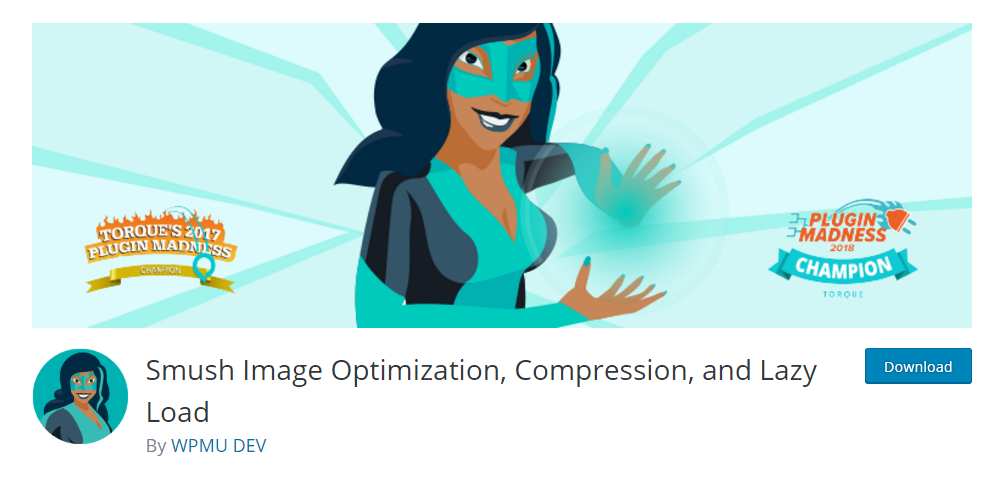 This free plug-in helps you improve and compress images. The compression capabilities of Smush Image Compression and Optimization have been thoroughly tested and the quality of its work has been confirmed by many webmasters. This plugin allows you to resize images to the maximum size and width without having to reduce the quality of display on the site pages.
All image processing is done on a WPMU DEV server and as a result, there will be no pressure on your site resources. The plugin scans it before uploading photos to site folders and compresses it by deleting additional data. The following is an overview of the add-on's capabilities:
This plugin resizes and compresses all site images, including those on CDNs.
This plugin is compatible with All Media Library plugins.
This plugin uses a very creative way to reduce the size of images.
The plugin automatically reduces the size by defining the maximum image width and length before uploading photos to site folders.
You can manually compress 50 images at a time.
Reducing the size of images on WPMU DEV servers freezes and therefore does not slow down your site.
This plugin reports reducing the size of images.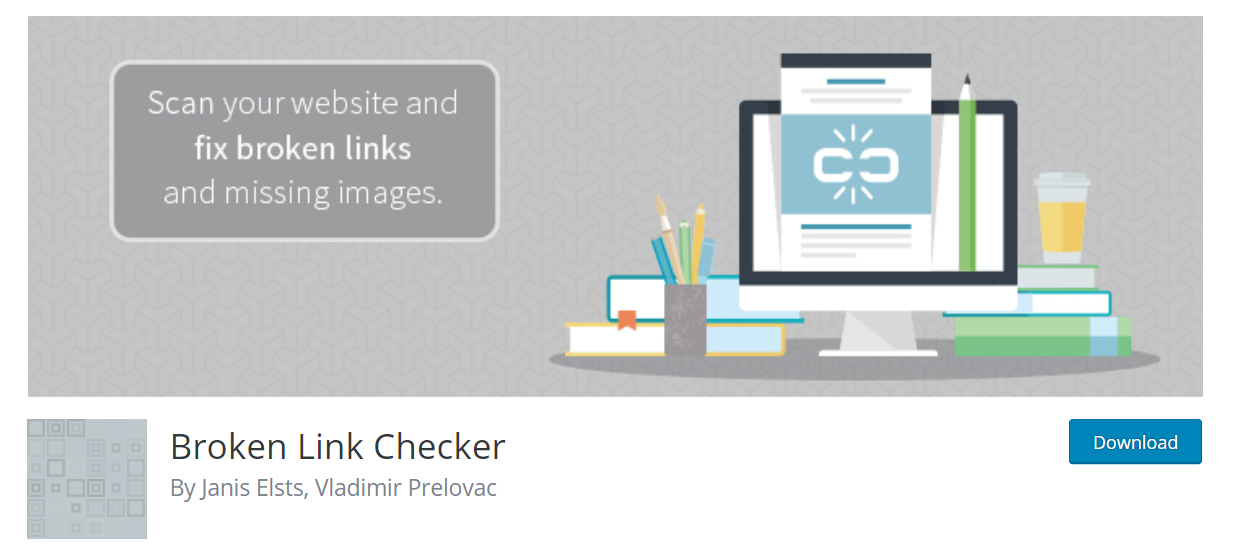 Broken Link Checker Plugin is a WordPress plugin that checks for invalid site links and alerts you if you find such links.
Once installed, this plugin will analyze posts, bookmarks, and other site content and look for all site links. It then checks each link and if you see an invalid link, it announces that link in the Tools section of the WordPress Control Panel.
You will then see a list of these links and you can manually check each one. The Unlink option allows you to clear the link and convert the text anchor into plain text. If you find that the link is OK, select Not Broken to keep the link intact. The following is a summary of the capabilities of this plugin:
This plugin lets you monitor links on pages, comments, posts and all parts of the site.
This WordPress plugin not only links to reviews of links but also redirects and missing images.
This plugin can alert you via the site or email control panel.
This plugin prevents search engines from following invalid links.
The plugin also offers filters based on text denials.
You can edit the link directly through this plugin without updating posts and going to the posts section.
This plugin is very easy to configure.
Rankie plugin is a WordPress paid plugin that helps you track your site's rank for a keyword in Google results.
This plugin reviews the site's daily rankings and reports it as a report. It also gives you a list of related keywords that users are looking for. In short, this plugin has the following capabilities:
This plugin constantly evaluates your WordPress site rankings in Google results and updates it regularly.
Reports are also provided on a monthly and yearly basis so that you can see site rank changes over time.
This plugin allows you to download reports in PDF format.
This plugin is in addition to its main function as a keyword suggestion source. This additional data is gathered through Google's suggestions.
This plugin uses four methods to determine the site rank.
There are four ways to calculate site rankings: Google Directly, Google Custom Search API, Google via F-secure.com and Google via kproxy.com.
This extension will email you daily rankings changes.
The plugin can track site rankings in several words and provide distinct reports.
This extension can receive proxies when evaluating site rank.
WordPress can automatically ping new posts in search engines. You can view and enable this feature in your site settings.
At times, over-pinging the service may make your site known as spam and may be penalized. You should use a plugin like WordPress Ping Optimizer to prevent unnecessary pinging. Features of this plugin include:
The WordPress Ping Optimizer plugin helps your site not be identified as spam. WordPress sites submit a ping request every time a small post is edited.
WordPress websites request ping every time you click Save and Continue Editing or Save. This plugin has been designed and optimized to fix this issue.
W3 Total Cache is a free SEO WordPress plugin designed and developed to help enhance the user experience and SEO of the website. This plugin helps you reduce site loading time by using features like creating a CDN. This plugin improves the ranking of sites, especially those that use reactive design and HTTPS protocol.
This plugin also helps optimize the conversion rate and performance of the site and as we know, these two factors improve the site rank in Google. This WordPress extension also helps improve web server performance at peak times.
This plug-in saves 80% of bandwidth through the compression of HTML, feeds, CSS and Javascript files. A summary of the key features of this plugin include:
This plugin enables the faster rendering of the site and speeds up user interaction with the site.
This plugin is compatible with a variety of hosts including shared hosts, dedicated servers and clusters.
The W3 Total Cache plug-in enhances site loading speed by making CDN preferential.
This extension has different cache management capabilities for different devices.
This plugin supports AMP pages.
This WordPress plugin supports SSL.
This extension allows users to store cache files as they wish in the cache or on the disk of the device.
Redirection plugin is one of the free WordPress plugins used to manage 301 redirects and track all 404 errors.
This plugin will be very useful when you are trying to move from an old site to a new WordPress site. It will also be very useful when you are trying to change the WordPress installation folder as well as site URLs. Some of the main features of the Redirection plugin are:
This plug-in helps you monitor 404 errors and redirect malicious URLs to 301.
This extension can automate the redirect routine and redirect old pages to new redirect 301 pages.
This WordPress plugin records and saves all the work done.
This plugin supports WP CLI.
Page redirects can be based on the user agent, user history status, or referrer.
This plugin can automatically redirect the old page to a new page when changing a page's URL.
You can redirect pages manually with this plugin.
This plugin can convert Nginx, JSON, .htaccess and CSV directories to one another.
This plugin integrates with the original WordPress Codes, so it does not need the .htaccess file on Apache web servers.
It supports Apache and Nginx web servers.
This plugin can give you statistics about your redirects. For example, when the last redirect occurred, what browser the user was targeting, and the URL in which the user clicked on the old link.
This plugin is available in many languages ​​and you can customize it depending on the theme.
This plugin is one of the All in One SEO Pack extensions designed and developed specifically for Woocommerce. With this plugin, you can edit the All in One SEO Pack capabilities in Woocommr.
Before installing this plugin, the user will be notified that the developer does not accept any responsibility for the problem with your site. However, it's easy to install, and often no problems. The main features of this plugin are:
This extension displays the All in One SEO Pack functionality directly on the Woocommerce product page.
This plugin can add or edit All in One SEO Pack metadata.
It's free and integrates Yoast SEO into AMP pages. The WordPress AMP plugin implements techniques on the site to ensure proper execution of AMP code. This plugin also ensures that metadata is used correctly.
This plugin is a quick solution for editing AMP pages.
The plugin adds styles to the AMP pages to convey a sense of normality to the user.
This WordPress plugin is used to change the design of AMP pages.

The SEO Optimized Images plugin allows you to add SEO titles and tags to your site images by SEO. When installing and activating this plugin, you will need to select the title and text replacement image templates. The plugin also automatically changes the titles and tags of Alt photos without altering the site database.
This means that if you later attempt to uninstall this plugin, the titles and tags of the Alt images will be restored. Features of this plugin include:
With this plugin, you can easily and effectively change the title and alt tags of your site photos.
This plugin can change the title of photos without changing the database, and if you remove the plugin it will restore them to their original state.

The EWWW Image Optimizer plugin is designed to help speed up site loading by optimizing images. Speeding up a site can greatly increase its ranking in search results. Also, the conversion rate of the website is increasing with the increase in site sales.
Increasing page speeds can also reduce site resource usage. This plugin automatically compresses and optimizes all images uploaded to the site.
This plugin can edit the format of images uploaded to the site and change it to a better format. It also allows you to specify the amount of compression. A summary of the features and features of this plugin include:
This extension has a limit on the size of photos.
This plugin can optimize photos in parallel, and this process runs when uploading multiple photos in the background, without interfering with your work.
It uses a pixel-perfect photo optimization system and has standard tools to work with.
The compression rate in this WordPress plugin is very high and supports various files including JPG, PDG, and PNG.
This plugin is very easy to work with just a few clicks.
This plugin is free and will cost you no cost to compress images.
The EWWW plugin has extensive coverage on the web, without missing a single image.
The plugin uses an advanced encryption system so that the security of the site is not compromised.
This extension can back up site photos and store them for up to 30 days for free.
This plugin is designed for quick and easy redirects and is housed in a WordPress repository. The Simple 301 Redirects plugin is very effective, especially when you are migrating from one website to a WordPress website, and it can overwrite the site 's URL structure.
Using Redirect 301 old pages to new pages, page credentials can be moved to new pages without having to worry about PageRank retention. A summary of the features of this plugin are:
This plugin can easily redirect pages to each other
This plugin redirects 301 pages together to validate them.
The Google XML Sitemaps plugin helps search engines to quickly index and index site pages by generating XML sitemaps for the website.
The site map makes it easier for searchers to understand the structure of the site. This plugin is compatible with the types of pages produced in WordPress. A summary of the features of this plugin are:
This plugin notifies search engines each time an article or page is published on a website.
This WordPress plugin has one of the highest scores among site map plugins.
This plugin has been translated into several languages.
This plugin has no problems with any kind of WordPress pages.
The Pretty Link Lite plugin is capable of generating short links that are redirected to the homepage of the site. These short links are from the domain itself and are used to track clicks. A summary of the features of this plugin are:
This plugin helps you generate links that are redirected to other URLs.
With this plugin, you can generate short, random addresses with 3 or 4 characters.
This extension allows the user to track every click.
This plugin provides accurate information about clicks including user IP, referral site, user browser, and operating system.
This extension allows you to specify the type of redirect (301, 302, 307).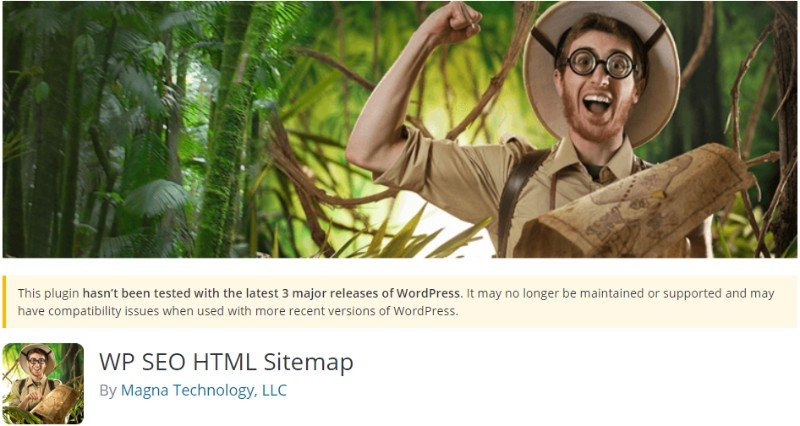 This plugin lets you build HTML sitemaps. The Yoast SEO plugin does not have this capability and is, therefore, a good complement to it. Here's a summary of the features of this plugin:
This plugin automatically uses the Yoast SEO sitemap settings.
This extension allows you to select the number of columns
The output of this plugin is fully reactive and is displayed correctly on all devices.
Conclusion
SEO WordPress plugins play a key role in optimizing the site for search engines. SEO WordPress extensions have features that guarantee the site's internal SEO and implement it with Google's algorithms. Each post published on the site should have a specific meta description and a specific keyword.
The keyword placement in the title, URL and content of the pages must be done correctly. Properly configuring the robots.txt file in WordPress and introducing the sitemap to Google's search console will help the site index better. Certainly installing a plugin that does all of this together would be a better decision than installing a plugin for each of these tasks.
The more advanced SEO WordPress plugins go beyond and make sure your site is linked to Google search console. This can check for monitoring errors and make sure the website complies with Google's SEO standards.
SEO is an ongoing process, so you should regularly check for bugs and ensure the site is healthy.
Eventually, you will find that SEO extensions only promote the site's internal SEO and you have a long way to go to get better rankings.
Content quality plays a prominent role in site rankings and backlinks are also an important factor in Off-page SEO. What is important about backlinks is their quantity and more importantly their quality.
If backlinks are spam, the best way is to disavow them, otherwise, your site will likely be penalized by Google.
What is your favorite SEO plugin? What features would you like to see included in the plugin? If you have any comments, let us know in the comments. Also if you have a question about this topic we would be happy to comment in the comments section.
ABOUT US
Working with Digital marketing, SEO services, and website design with a highly experienced team for years, َAvenger IT Next Generation has been able to meet the needs of people in various businesses and help businesses grow. Continuously updating their level of knowledge and exploring different markets has surpassed the pioneers in this field and incorporate successful experiences into their careers.
Avenger IT Next Generation is a website design and development agency and an SEO agency to promote your business, call with us.